Working from her home in St Just, the most westerly town in Cornwall, Karen enjoys creating the bags that are for sale online. You can also visit by appointment to see the bags that are for sale and discuss your order with Karen.
Recent developments include a move away from the well known spotty velvet bags towards contemporary fabrics and leather, whilst continuing to embrace the beautiful vintage fabrics that have been collected over the years.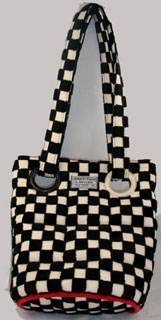 The Eyelet bag is a breakthrough in handle design - giant eyelets in the top of the bag mean that the two handles instantly and simply pull through into a long shoulder strap. This means the difficult decision of which handles to have on your bag is never going to be a problem again! We love this so much we registered the design (number 3022557) to protect it from unscrupulous copyists!